Classroom and Afterschool
Club Resources
Welcome to Discover Data, a program developed to empower your students with one of the future's most important tools. As technology creates larger amounts of data than ever before, Discover Data is designed to connect students to real world careers, activities and data experts to inspire their understanding of how data is used to innovate across all industries all over the world, along with providing a glimpse into the many diverse and exciting career pathways open to them.
Download the FAQs »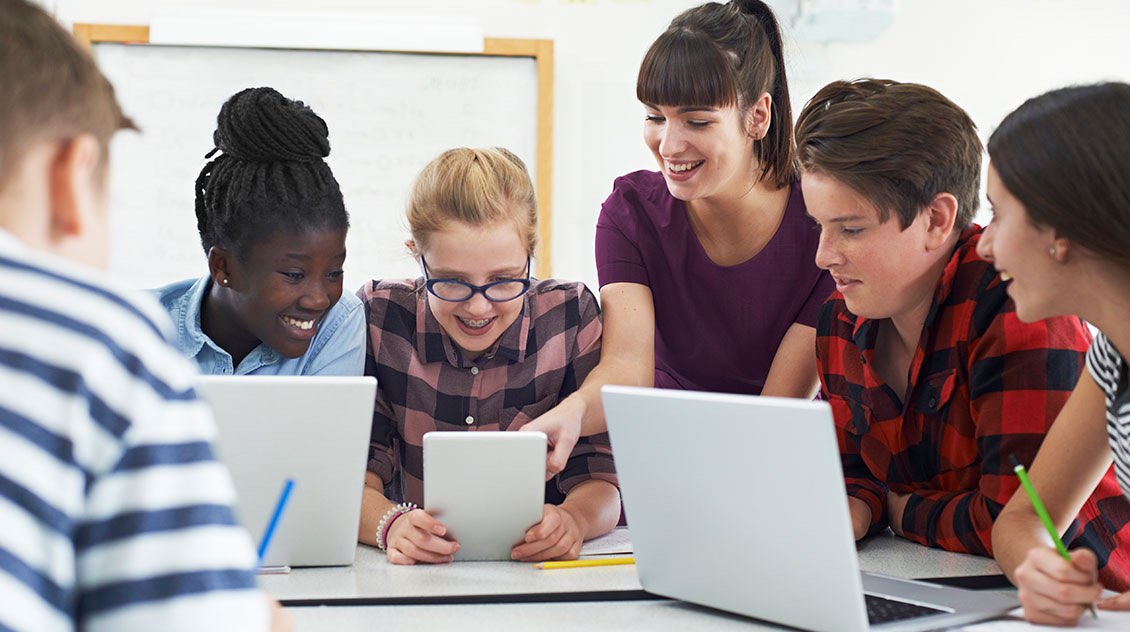 Standards-aligned and flexibly designed, Discover Data's multimedia resources can be used with middle and high-school-aged students across the curriculum.  You can also request a visit from a volunteer to have a data professional visit your classroom and discuss their career!
Schedule a visit »
Student Interactive
New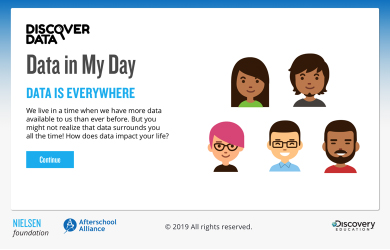 Student Interactive | Data in my Day
10–15 min.
In this self-paced eLearning module, students travel through a typical day to investigate everyday occurrences and discover where and how data and data science play a part. Students will explore the many ways data can be used along with various data-driven careers.
Launch Interactive
Download Educator Guide
Classroom Activities
Curriculum Connectors
Discover Data's Curriculum Connectors provide several beginner and intermediate-level activity ideas tied to a specific theme. These activity ideas are intended for grades 6–12, and give educators the opportunity to integrate real-world data sets into existing curriculum or programming.
New

Data During the Holidays
Grade: 6–12
Subject(s) : ELA, Math, Science, Afterschool Enrichment
What holidays are you planning for right now? In these activities, students will have the opportunity to interact with national data, as well as collect data from family and friends, to draw conclusions about consumer behavior.
New

BIG DATA IN THE BIG GAME
Grade: 6–12
Subject(s) : ELA, Math, Science, Afterschool Enrichment
Do you prefer to watch the game, the commercials or the halftime show? In these activities, students will investigate consumer data bytes surrounding championship football—such as the fans, the entertainment, and the food.
New

DATA GETS GREEN
Grade: 6–12
Subject(s) : ELA, Math, Science, Afterschool Enrichment
When companies "go green," do they spend more or make more?  There's data for that, and these activities inspire students to think like innovators as they use data to solve environmental challenges.
Activities
Discover Data's activities are standards-aligned and flexibly designed. These approximately 45-minute activities are intended for grades 6–8 and can be used in multiple content areas.

PREMIUM PRODUCTS
Grade: 6–8
Subject(s) : ELA, Math, Science, Afterschool Enrichment
Why do some cars, clothing items or computers cost more than others? In this activity, students will look at perception data about luxury products and brainstorm with peers to create a luxury product prototype of their own.

A WINNING SMILE
Grade: 6–8
Subject(s) : ELA, Math, Science, Afterschool Enrichment
If you're a celebrity athlete, does your endorsement potential depend on winning games? In this activity, students will use data to predict how much potential an athlete has for being selected for ads and endorsements.

MILLENNIAL MOVEMENT
Grade: 6–8
Subject(s) : ELA, Math, Science, Afterschool Enrichment
How will the media habits of millennials change by the year 2050? In this activity, students will research how different audiences are consuming media and develop predictive models for what media habits will look like in 2050.
Video Career Profiles
Client Operations Manager
As a Client Operations Manager, My visualizes and creates the data process for teams and helps everyone to understand their roles in solving the assigned problem. Learn ways that My also uses data outside of work, including holiday planning.
Client Solutions
As a Director of Client Solutions, Andrew and his team use data to help TV networks understand who is watching so that they can best reach their audience. Learn about Andrew's upcoming trip abroad and how he uses data from travel reviews to plan the perfect vacation.
Account Manager
As an Account Manager, Danielle works with major sports leagues providing insights that help them to create the best experience for their fans. Watch to see Danielle's predictions on the value of understanding data as a skill for the future.
Career Resource Guides
Careers in data are as limitless as data itself. This field employs communicators, creative thinkers, number-crunchers, problem solvers, and innovators across all industries and the globe.

Data Scientist
Data scientists are information engineers. These professionals are masters at making it easy for us to sort through mountains of data in order to get to a meaningful conclusion.

INNOVATION ANALYST
Innovation Analysts make dreams and ideas into realities. It's their job to coach clients who are developing new products on how to best make a splash.

Sales Engineer
Sales engineers are communicators and translators. Their research and knowledge of market trends and their ability to make and deliver effective presentations help bring the power of data to life.
Educator Webinar
Looking for ways to make data more interesting for your students? Whether this is your first step in exploring data science or you are a seasoned expert looking for new strategies, the DISCOVER DATA educator webinar will have something for everyone.
New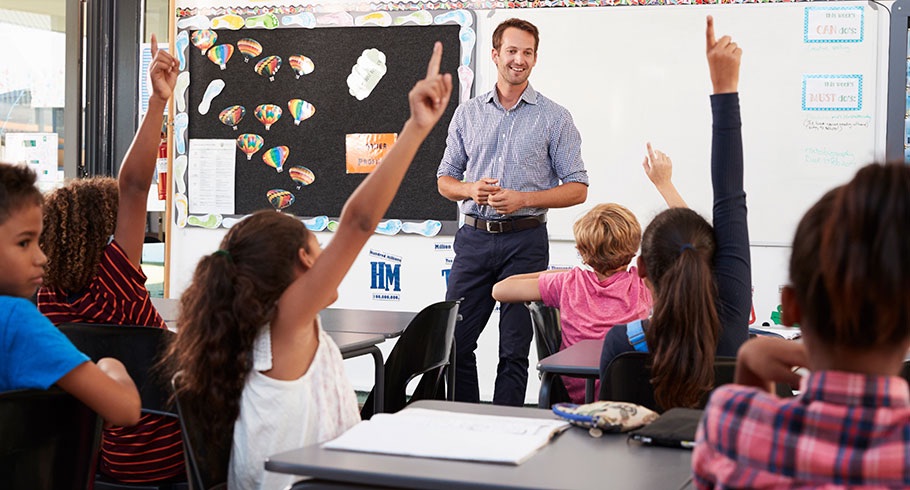 This webinar is broken out into two thematic parts:
How to make data in everyday life come alive for your students
Strategies for engaging students with the multi-media resources available from the DISCOVER DATA initiative